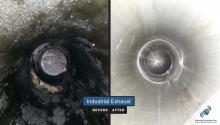 Filtration
To expand our services, we now provide a complete line of HVAC as well as specialty filters.
As a stocking distributor, our facility houses the following filter types listed below:
Pleated filters, Throw away filters, Synthetic bag filters, Synthetic ring filters, ASHRAE filters, Auto Rolls, Bulk pad media, Kitchen Exhaust filters, Computer Room filters, Filter holding frames, Self Sealing cubes, Anti microbial filters, Impregnated carbon filters, Activated carbon filters , Zeiolite carbon filters, Liquid Filtration and much more.
In addition, we are able to custom order special sizes and HEPA filters, as well as other HVAC related products.
Our active involvement in the National Air Filtration Association (NAFA) enhances our knowledge and expertise in the industry. We are current on all NAFA standards and we are able to assist you with any information or filters you may need.
As always, you can depend on Airways - for filtration, duct cleaning and IAQ needs.